Careers Office ⋅ Introduction
Location of Careers Office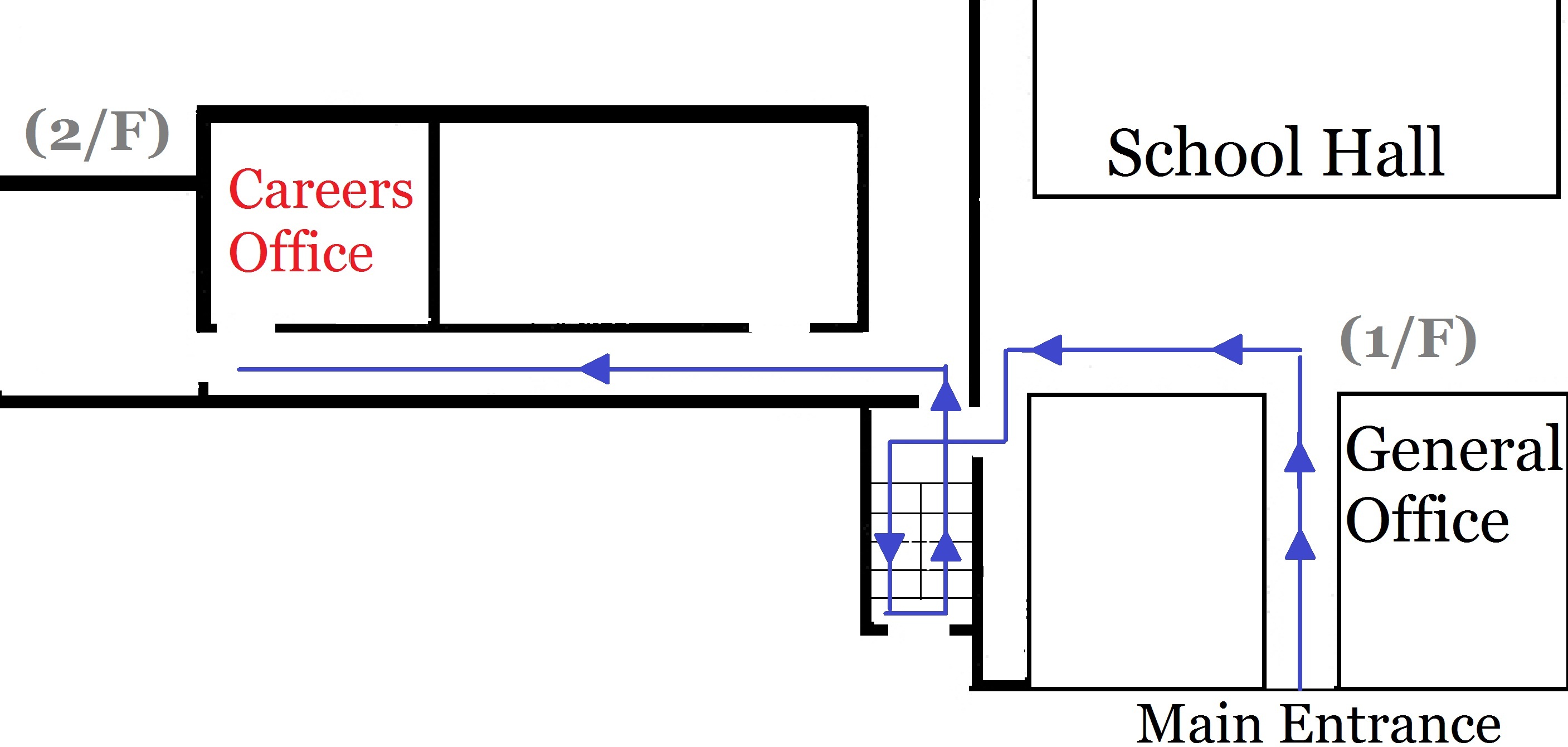 Mission Statement
We seek to assist students to understand the process of career planning, helping them to develop their capacities to determine and reach their goals.
Objectives
Provide quality career counseling and life planning programs which will assist students to clarify their abilities, interests and academic / career interests.
Develop and maintain communication with different institutions and alumni to maximize students' career needs and interests.
Assist students to understand the range of opportunities available.
Prepare students for career by providing internship, job shadowing and summer job opportunities.
Provide and maintain a career resources library.
Assist students to relate self-assessment to suitable occupations and learn how to choose between alternative courses of action.
Assist students to plan and execute strategies for achieving career goals.
Improve the professional standards of the Careers Service in order to meet the changing needs of students.
Team Members
| | | |
| --- | --- | --- |
| | Email | Tel |
| Mrs. Jenny M.C. TSO (Careers Mistress) | dbsmct@dbs.edu.hk | 2768 5611 |
| Ms. Sharon CHAN (Careers Teacher) | dbssc@dbs.edu.hk | 2768 5698 |
| Mr. Larry LEUNG (Careers Teacher) | dbssll@dbs.edu.hk | 2768 5697 |
| Mr. Long Tin CHAN (Careers Teacher) | dbsltc@dbs.edu.hk | 2768 5696 |
| Mr. Kwong Wing NG (Careers Teacher) | dbskwn@dbs.edu.hk | 2768 5691 |
| Mr. Kevin CHOW (Careers Teacher) | dbsctc@dbs.edu.hk | 2768 5630 |
| Mr. Ziv YEUNG (Careers Teacher) | dbszy@dbs.edu.hk | 2768 5661 |
| Ms. Christie LAI (Careers & Further Studies Assistant) | christielai@dbs.edu.hk | 2769 7582 |
Careers Office
Email: dbscareers@dbs.edu.hk