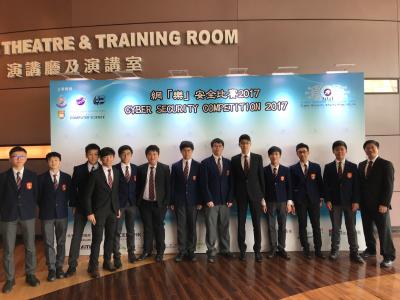 The Hong Kong Cyber Security Competition 2017, organized by the Hong Kong Police Force and the University of Hong Kong, successfully came to an end on 10 February 2018.
In the initial stage of the contest – the "Online Quiz Contest" – our students achieved the highest average score among 7700 participants from over 1000 schools and secured the Champion. Our representatives also captured most of the individual awards, which includes the championship along with 10 merit prizes.
Our school, as one of the top 8 performers in the initial stage, was selected to compete in the next round of competition: "Cyber Security Challenge". Our team, consisting Tam Siu Ying (G12M), Chan Ka Chun (G10T), and Lam Chun Jerry (G10T), captured the champion in this round.
Thanks must be given to Mr. Q. Lee and the school for their unlimited support and guidance.
Detailed results of the "Online Quiz Contest" are as follows:
| | | |
| --- | --- | --- |
| Ho Chun Yin Anson | G12L | Champion |
| Lam Chun Jerry | G10T | Merit |
| Tam Siu Ying | G12M | Merit |
| Chow Chun Ho | G12P | Merit |
| Chim Wang Tai | G8P | Merit |
| Ng Ching Wang Kelvin | G9P | Merit |
| Wong Lai Shun Nelson | G12P | Merit |
| Li Wang Yau Derek | G8L | Merit |
| Chan Lok Waai Adrian | G12T | Merit |
| Chung Yiu Ting | G12P | Merit |
| Tse Long Hei | G12P | Merit |