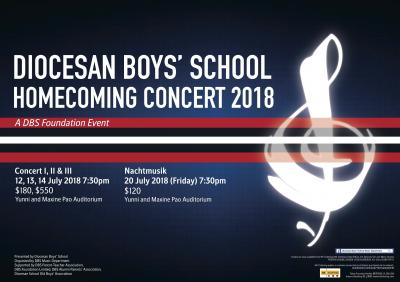 DBS Homecoming Concert 2018

Nachtmusik

Date

12, 13, 14 July 2018

20 July 2018 (Friday)

Time

7:30pm

Venue

Yunni & Maxine Pao Auditorium
Yip Kit Chuen Concert Hall
Diocesan Boys' School

Admission

$180 and $550

$120

Details

Details of performers are as follows:

12 July Thur
PD Hymn Choir (G3, G4)
PD Treble Choir
PD String Orchestra
PD Junior Orchestra
SD Treble Choir
SD String Orchestra
SD Chinese Orchestra

13 July Fri
PD Junior Choir
PD Chinese Orchestra

PD Wind and Brass Ensemble
PD Senior Orchestra
SD Ensemble

SD Intermediate Choir
SD Intermediate Mixed Choir

14 July Sat
DSOBA Performance
SD Senior Choir
SD Junior Mixed Choir
SD Senior Mixed Choir

SD Wind Orchestra
SD Symphony Orchestra
 

While our traditional Homecoming concerts are a celebration of our brotherhood and strength as a family, our annual "Nachtmusik" concerts are a platform for our finest musicians to experiment with and to develop their artistic visions. The choice of repertoire for our "Nachtmusik" concerts also seeks to build a connection between our musicians and the general public. This year, our concert features Tchaikovsky's Symphony No. 6 "Pathétique", along with other chamber music performances by our Symphony Orchestra as well as String Orchestra.
Tickets for DBS Homecoming Concerts I, II and III are priced at $180 and $550. Tickets for "Nachtmusik" Concert are priced at $120. Tickets for the four concerts will be on open sale on Saturday 9 June 2018, starting at 10am, via Hong Kong Ticketing (Internet ticketing service www.hkticketing.com, ticket purchase hotline 31 288 288 and at their ticketing outlets). There will be a 10% discount for purchasing tickets with the Dah Sing Distinction Platinum Card for DBS.
Poster designed by Owen Chu